Audi's e-tron GT is a sublime cruiser, clocking up miles between charges in comfort and class. The e-tron GT is a sleek electric vehicle that doubles as a grand tourer and a performance car. It competes with a range of luxury electrics such as the Porsche Taycan, Tesla Model S and the upcoming BMW i4. If you need to comfortably drive 200 miles and want to look good, there are few cars that can do it better. New for 2022, the e-tron GT debuts in two versions: the e-tron GT and the RS e-tron GT, which offers more power and performance. It shares a platform with its Volkswagen Group sibling, the Porsche Taycan.
Well doesn't go far enough, the e-tron GT is a stunning car with a sleek, sultry shape that catches the eye from every angle. The handsome exterior of the e-tron GT catches the eye of onlookers and although the interior takes less style risk, it is attractive in that understated Audi way. It's hard to point to a single e-tron GT feature that sets it so apart, the profile of the vehicle makes the little details blend in with its smoothness. There's a front grille, although it can be ordered in body color if you don't want it to stand out so much and that makes the nose look more futuristic.
The e-tron GT offers explosive powertrains in both versions; even the non-RS versions are very quick, going from 0 to 60 mph in less than four seconds. Both versions of the e-tron GT come with a twin-motor setup that places an electric motor on each axle for standard all-wheel drive. Both e-tron GT models share the same basic configuration, but software differences allow the RS to draw significantly more power from the 93.4 kWh battery that the two models share. The e-tron GT produces 496 hp and 464 lb-ft of torque most of the time, although a boost function bumps those numbers up to 522 hp and 472 lb-ft in bursts. The RS produces 590 hp and 612 lb-ft, and it too can be increased up to 637 hp.
This prodigious power output allows the e-tron GT to sprint from 0 to 100 km/h in 3.9 seconds, while the RS revs in a supercar time of just 3.1 seconds. Both models feature extremely easy to activate launch control. Flip the car into its "Dynamic" drive mode, hold onto the brake and step on the accelerator. The digital speedometer flashes to let you know it's on and once you release the brake pedal, the e-tron GT moves forward in the blink of an eye. Be sure to warn passengers to put their heads back before doing so in either model. While the e-tron GT seems to drop just over 70 mph, the RS has no such issues getting past highway speeds with ease and feeling sturdier off the line, unsurprisingly.
Underneath, the e-tron GT and RS come standard with an adaptive three-chamber air suspension. A Performance Package is offered on the e-tron which also adds rear torque vectoring, low-speed power steering assist and rear-wheel steering (all of these features are standard on the RS, except except for the steering of the rear wheels). This suspension leans toward comfort and controls rebound well, making the e-tron GT an exceptional cruiser for long rides. Audi does a good job of creating off-center steering resistance that's perfect for twisty roads and canyons. RS models come with standard carbide brakes with larger front and rear rotors, with an optional ceramic brake package.
The e-tron GT tops out at an estimated 238 miles of range. Despite the difference in power between the two models, the range estimates are quite close: 238 miles for the e-tron GT and 232 miles for the RS. The e-tron GT offers 82 MPGe combined (the RS is 81 MPGe combined) with its 93.4 kWh battery. For comparison, the Lucid Air Grand Touring gets 131 MPGe and the Tesla Model S (non-Plaid) offers 120 MPGe, and both vehicles have larger batteries. Where the e-tron GT excels is in offering an 800-volt architecture, and with 800-volt DC fast charging, it can fill the battery from 5% to 80% in just 22 minutes, at provided you can find a charging station that provides close to the vehicle's maximum 270kW charging power. Audi is also offering a free three-year DC fast-charging plan for buyers through Electrify America.
The e-tron GT has not yet been tested by the IIHS or NHTSA, but it comes with a solid set of standard and available safety features. Forward automatic emergency braking, traffic sign recognition, front and rear parking sensors, lane departure warnings and blind spot monitors are all available on every e-tron GT. A surround-view camera system, adaptive cruise control and active lane control are also available.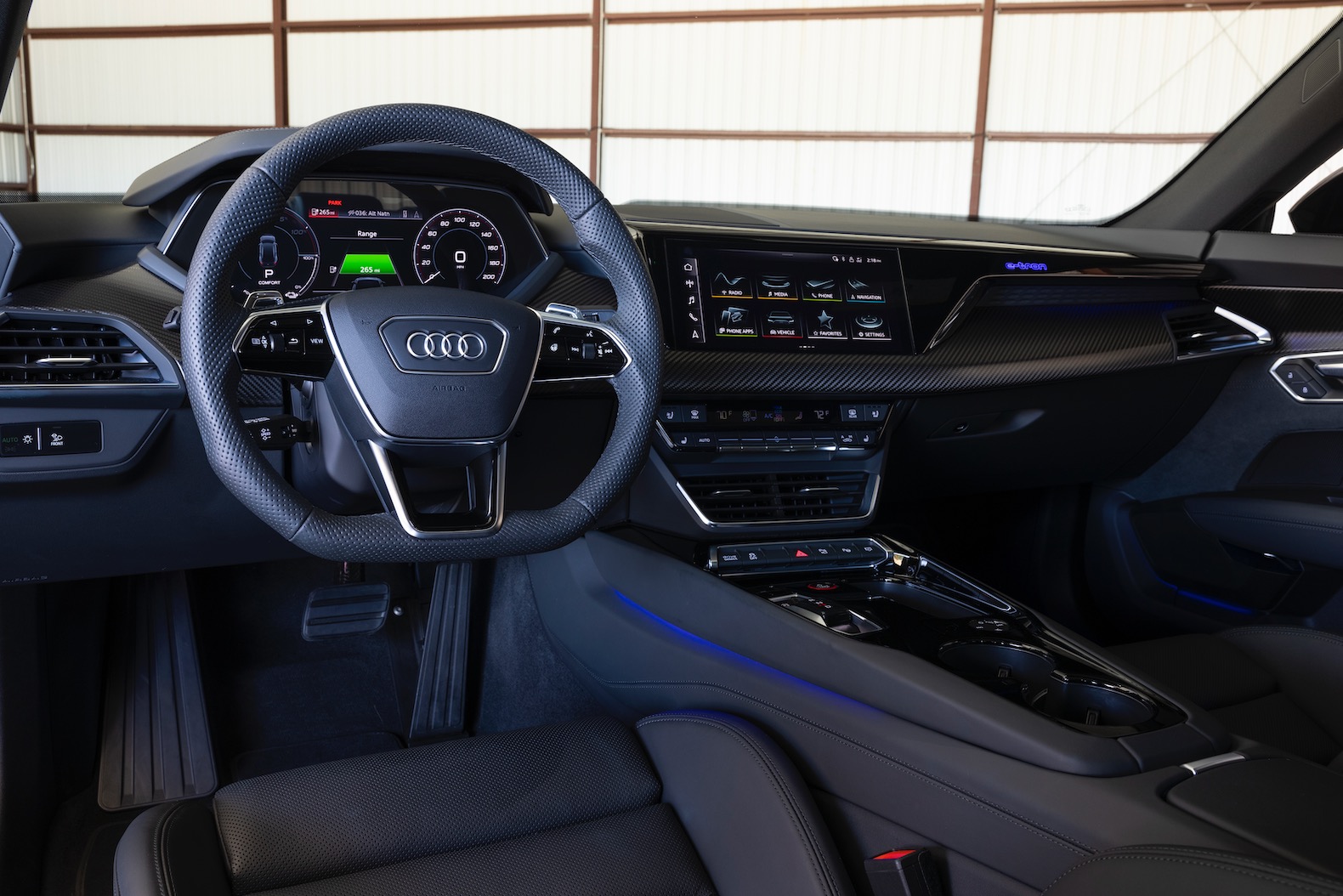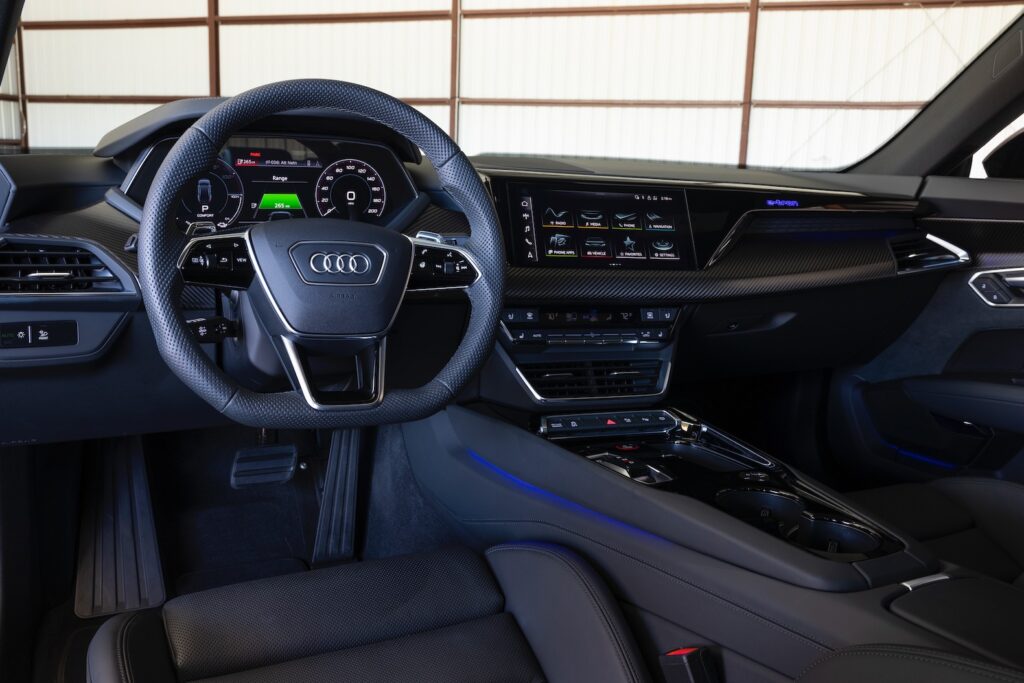 Inside, the styling is more conventional Audi with an understated look and screens/switches familiar from other Audi vehicles. In a win for simplicity, there are switches for climate control functions and driving modes rather than the second screen that most Audis use. The dashboard includes a pair of screens, a 12.3-inch screen for the driver and a 10.1-inch touchscreen for the infotainment. The materials are worthy of a luxury vehicle and the fit and finish are perfect. The biggest difference between the two vehicles is on the top, where the e-tron GT comes with a panoramic glass roof and the RS features a carbon fiber roof. Rear space is tight for such a large vehicle, with the shape of the vehicle cutting sharply into rear headroom, but still comfortable.
The front seats are very comfortable, and the overall quality of materials is high throughout the cabin, as you'd expect from Audi. 14-way power and heated front seats are standard and they're wonderfully comfortable and supportive, with bolstering that keeps you contained without pinching you. Cabin materials are equally good, worthy of a luxury vehicle with a six-figure starting price. Audi also made a key interior layout decision that I really like, eliminating the second touchscreen in favor of switches for climate control functions and drive mode/traction control settings.
There's a lot to like about all trim levels of the e-tron GT. A solid list of standard features, a large infotainment screen and a solid set of options make the e-tron GT an attractive option. Most buyers will fit better into the e-tron GT, as the massive price jump to the high-performance RS isn't a mountain most will be willing to climb. The e-tron GT is offered in two trim levels: Premium Plus ($100,945) and Prestige ($110,645).
Standard features include artificial leather upholstery, 20-inch alloy wheels, 14-way power and heated front seats, LED headlights, panoramic glass roof, 12-inch instrument cluster display, 3-inch and a 10.1-inch infotainment screen angled slightly towards the driver for easier access. Prestige models add a head-up display, adaptive cruise control, active lane control, heated rear seats and a Bang & Olufsen audio system.
For both e-tron GT variants, if you want them to perform more like the RS (but without the power boost), a Performance Package ($6,000) is available which adds rear wheel steering, wheels unique 20-inches, an upgraded differential that can lock the rear, blacked-out trim pieces and carbon fiber inserts inside. A leather package ($4,000) is also available that adds lots of cowhide leather and upgrades the front seats to add 18-way adjustments, cooling and massage functions. For its first year of production, the RS e-tron GT is offered with a Year One package which includes the Performance Carbon and Full Leather packages, as well as 21-inch wheels and red contrast stitching/seatbelts on the interior . It bumps the price of the RS from around $140,000 to over $165,000.
For EVs, Audi is still the new kid on the block with only the e-tron SUV ahead of the GT. With knockouts like the e-tron GT, Audi is rapidly upping its game. With stunning looks, commendable driving manners and cutting-edge technology; it's easy to see how stellar the new 2022 Audi e-tron GT is. For those looking to try something new and step out of the current dubious quality Tesla lemmings, the new e-tron GT is definitely worth a look. Remember to wipe the smile off your face when you go out.